For a new version of this article, click this link to Qspirit.net:
Peter Gomes: Gay black Harvard minister preached "scandalous gospel"
In memory of
Peter Gomes
Harvard minister, gay African American, LGBT rights advocate
Died Feb. 28, 2011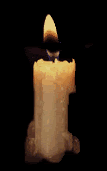 I light a memorial candle for Peter Gomes, a Harvard minister and African American gay man who came out in 1991, becoming a prominent voice supporting religious rights of LGBT people. He died Feb. 28 at age 68.
(Update:
click here
for my expanded reflection about Gomes on the first anniversary of his death.)
In his 1996 best-seller, "
The Good Book: Reading the Bible with Mind and Heart
," he showed how the Bible was misused to defend homophobia, racism, anti-Semitism and sexism.
Click the following links for more about Peter Gomes:
His full obituary in the New York Times:
http://www.nytimes.com/2011/03/02/us/02gomes.html?_r=4&src=twrhp
Peter Gomes video Would Jesus Support Gay Marriage?
(also posted below)
May we honor Peter Gomes by living our lives with the same courage, scholarship and tolerance that are his lasting legacy.
___
Books by Peter Gomes include:
The Good Book: Reading the Bible with Mind and Heart
The Scandalous Gospel of Jesus: What's So Good About the Good News?
Sermons: Biblical Wisdom For Daily Living
The Good Life: Truths that Last in Times of Need
Strength for the Journey: Biblical Wisdom for Daily Living
___
This post is part of the
LGBTQ Saints series
by Kittredge Cherry. Traditional and alternative saints, people in the Bible, LGBTQ martyrs, authors, theologians, religious leaders, artists, deities and other figures of special interest to lesbian, gay, bisexual and transgender and queer (LGBTQ) people and our allies are covered.
Copyright © Kittredge Cherry. All rights reserved.
Qspirit.net presents the Jesus in Love Blog on LGBTQ spirituality.